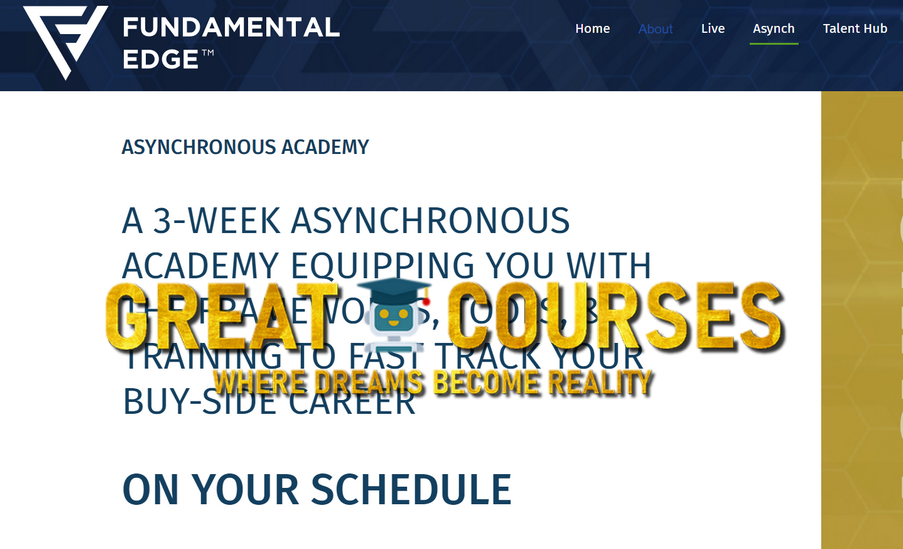 Asynchronous Academy By Fundamental Edge – Free Download Course By Brett Caughran
You will get full access to a 3-week asynchronous academy equipping you with the frameworks, tools, & training to fast track your buy-side career!
✅ About This Course:
✅ Course Author: Brett Caughran, Fundamental Edge
✅ Official Course Price: $5000
✅ Free For Our VIP Members? : Yes
✅ Download Links : Mega & Google Drive
✅ Course Size : 32.95 GB
✅ Updatable? : Yes, all future updates included.
✅ Sales Page : You can check at the bottom of this page.
🏆 Here's what you get & learn with this training:
Week 1: Foundational Tools – Modules 1-4
Analyst Toolkit Deep-Dives: the 12 core modules that teach the skills a buy-side analyst will need.
1) PREPARATION & PROCESS (LIVE CLASS)
Welcome to Academy!
The Fundamental Edge backstory
A buy-side primer
"Quarter in the life" of a hedge fund analyst
The eight abilities you will need on the buy-side
A recipe for success: process & judgment
The criticality of compliance & the "WSJ test"
Resources & tools for the research process
Six habits of the exceptional buy-side analyst
Ten things that move stocks
2) ANALYZE A BUSINESS
Creating your reading stack
A structured deep dive roadmap
The underpinnings of FCF generation
The Fundamental Edge pizza shop
A good business, bad business framework
Unit economics & incremental margins
Tying value drivers to the stock price: AMZN example
Your first 12 hours on a stock
Quick dive follow-along: NFLX example
Roadmap to analyze an industry
3) BUY-SIDE FINANCIAL MODELING
The six reasons buy-side analysts build models
A step-by-step raw build: TSLA walk-through
Common modeling challenges
Bells & whistles: incr margin, 2-year stack & more
Understanding consensus & estimate revisions
Seven hacks for identifying variance vs. street
Mental frameworks for better forecasting
The three statements for stock pickers
What your PM is looking for in your model
The model & stock selection: NVST case
4) KEY DRIVER "KD" DIFFERENTIATION
The critical pivot: from deep dive to key drivers
Why most stocks can be distilled to three drivers
Market embedded KDs & the reverse DCF: NFLX case
KPI to stock price correlation: what matters
Key drivers, EPS sensitivities & variance
Mapping the food chain to ask the right questions
Channel checks, surveys & expert networks
Alternative data overview
The secular view & value compounders
The power of a differential view on terminal value
Week 2: Intermediate Tools – Modules 5-8
5) VALUATION & RISK/REWARD
Valuation: academia vs. the real world
The Core Formula: P/E x EPS = Price
The eight most common valuation tools
Beyond P/E: EV/rev, EV/EBITDA & FCF yield
Valuation with normalized earnings
Constructing a 30-year reverse DCF
Return disaggregation to P/E & EPS
The algorithm & why it matters
Valuation sets the bar: META case study
6) SHORT SELLING
Short selling 101
Squeezes, take outs & pumps, oh my!
The cyclicality & criticality of short alpha
Risk management on the short side
Idea generation on the short side
Anatomy of a melting ice-cube
Secular vs. cyclical & "peak on peak" set-ups
Risk/reward on the short side
Short selling case studies
A PMs approach to a diversified short book
7) EARNINGS SEASON
Why you shouldn't get married in earnings season
The two drivers of big earnings movers
A structured earnings preparation process
Divining the buy-side whisper
The importance of positioning & set-ups
Six model checks into earnings
Creating an earnings print risk/reward
Where's the alpha? Understanding the run-up
Read throughs & the adaptive bar
Earnings season case studies
8) ASSESSING MANAGEMENT
Why management matters (and when it doesn't)
A framework to evaluate management
Doing a deep dive on a management team
The obsession with corporate access
A structured management meeting process
The role of investor relations
Navigating an investor conference
Analyzing stock-based compensation
Five options for deployment of cash
Analyzing stock buy-backs
Week 3: Advanced Tools – Modules 9-12
9) IDEA GENERATION
Why stocks get mispriced
Articulating "why an opportunity exists"
Honing your idea filter with pattern recognition
The two C's: change & chaos
The FEV approach to idea generation
"Multiple ways to win", "paid to wait" and more
Risk/reward and the power of asymmetry
"Secular vs. cyclical" in idea generation
Generalist ideation with a thematic approach
Inflections & pair trades with a coverage approach
10) THESIS DEVELOPMENT & COMMUNICATION
Is there something here: convincing yourself
Not yet: IRR, catalyst path & the shopping list
A risk-first mindset to thesis development
Six tips for communicating with your PM
Uh oh: reporting bad news to your PM
Frameworks for morning, weekly & monthly notes
Pitch like a pro: 30-second, 5-minute, 30-minute
Numbers plus narrative: the art of the stock pitch
A structured 15-page presentation pitch
The skeptic: throwing dirt on a pitch
11) IDEA MAINTENANCE & THE CATALYST PATH
A roadmap for getting in the flow on a name
Developing an ongoing research plan
A structured catalyst assessment process
PSUC (probability of success) catalyst framework
Isolating the "steep part of the return curve"
When the facts change: adaptive R/R mindset
A tactical risk/reward framework
Identifying a stock's PMR (point of max risk)
Time management & your "three golden processes"
Anatomy of thesis creep
12) BRINGING IT ALL TOGETHER
Review: the eight abilities you will need
Review: ten things that move stocks
Review: core Fundamental Edge frameworks
Review: develop a R/R & IRR
"Know thyself": finding your game in markets
Becoming a full-stack analyst
Sharpen the saw: optimizing analyst performance
Introduction to portfolio management
An overview of risk & factor models
Capstone case studies
The first and last modules are delivered live over Zoom with recordings available. Live Q&A "office hours" session held three times per week for interactivity. Replays of all sessions will be available for 30 days for maximum flexibility.
We have everything recorded for our VIP members 🙂
✅ Great X Courses Guarantee: At Great X Courses, we insist in providing you with high quality courses, with direct download links (no paid links or torrents). What you see is exactly what you get, no bad surprises or traps. We update our content as much as possible, to stay up to date with the latest courses updates.
You can find more details about the course according to the sales page.