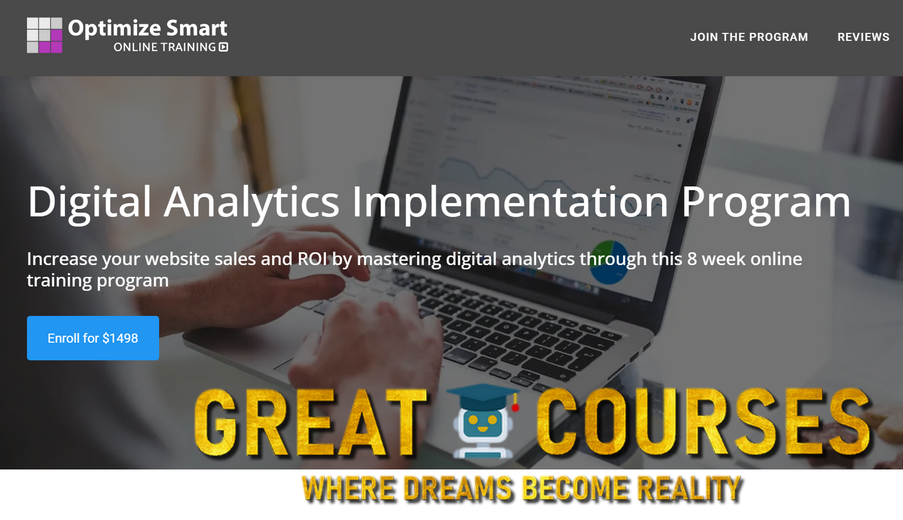 Optimize Smart – Digital Analytics Implementation Program By Himanshu Sharma – Free Download Course
LLearn the skills so you can increase your website sales and ROI by mastering digital analytics through this 8 week online training program!
✅ About This Course:
✅ Course Author: Himanshu Sharma – Optimize Smart
✅ Official Course Price: $1498
✅ Free For Our VIP Members? : Yes
✅ Download Links : Mega & Google Drive
✅ Course Size : 58.36 GB
✅ Updatable? : Yes, all future updates included.
✅ Sales Page : You can check at the bottom of this page.
🏆 Here's what you get & learn with this training:
Sales & ROI Accelerator Course
Google Analytics 4 (GA4) Mastery Course
Google Analytics Mastery Course
Google BigQuery Course
Data, Maths & Stats Mastery Course
Attribution Modelling Course
Google Data Studio Mastery Course
#1 Sales & ROI Accelerator Course
Gathering Business Intelligence
The PERFECT Website Audit
The PERFECT Analytics Audit
Website Usage Analysis
Understanding Customers Purchase Journey
Setting up Goals, Strategies, and KPIs
Building Value ladders and Funnels
Scaling Ads
BONUS Module: Copywriting Basics
—————————
#2 Google Analytics 4 (GA4) Mastery Course
Google Analytics 4 Basics (GA4 introduction, the difference between GA4 and GA3, GA4 property, data streams, measurement ID, Event and Parameter measurement model…)
GA4 Property Configuration (GA4 account structure, GA4 property creation, Google Signals, connection to Google Ads, Google search console…)
GA4 360 (Introduction, Google Marketing Platform, Data limits and freshness, CRM integration, Sub Properties, Roll-up Properties …)
Firebase GA4 (Introduction to Firebase, Firebase Project and Google Cloud, adding firebase to Apple and Android Apps, adding app data streams to GA4 property…)
GA4 BigQuery (Introduction to Google BigQuery, connecting GA4 to BigQuery, Linking GA4 property to BigQuery project, Enabling and Configuring the BigQuery API…)
GA4 Server-Side Tracking
Referral and Direct Traffic in GA4, GA4 UTM Tracking
GA4 Data Filters, GA4 Content Grouping
GA4 Events (Introduction, Event Types, Events report, Event Parameters, User Properties, measurement protocol…)
GA4 Dimensions and Metrics
GA4 tracking setups (cross-domain tracking, Conversion tracking, Scroll Tracking, Site search tracking…)
GA4 Audience (custom audience, Audience triggers, Predictive audiences, Predictive metrics, Remarketing audiences…)
GA4 Exploration reports (Free form, Funnel exploration, Path exploration, Segment overlap…)
GA4 Miscellaneous (Building comparisons, Automated insights, Creating custom insights, Channel groupings, Data sampling…)
GA4 Attribution (Introduction to attribution modelling, Understanding Conversions in GA4 Attribution, Conversion Credit distribution, GA4 Attribution Models…)
—————————
#3 Google Analytics Mastery Course
Google Analytics Foundation (Basics, Account Structure, Hits, Sessions, Source, Medium, URL tagging…)
Google Analytics Jumpstart (Cookies, Client ID, Users, Dimensions, Metrics, User ID, Marketing Channels…)
Google Analytics Acceleration Zone (Session & Conversion Attribution, Campaign Attribution, Channel grouping, Session Quality…)
Mastering Google Analytics Admin (Account Settings, Property Settings, View Settings, Cross-Device Reports, Referral exclusion, Audience, Data Import…)
Becoming Expert E-commerce Analyst (Shopping Behavior analysis, Checkout funnel analysis, Advanced Analysis in 360, ….)
Attribution Modelling (cross-channel attribution, cross-device attribution, online-offline attribution, hybrid attribution, attribution models, creating custom models, …)
Google Analytics IQ Exam (this exam includes actual GAIQ questions).
—————————
#4 Google BigQuery Course
Google BigQuery Basics (What is BigQuery, Advantages of using BigQuery for Google Analytics, Prerequisites for using BigQuery, BigQuery Sandbox, …)
Walkthrough of BigQuery user interface
Google BigQuery Cost (Cost of using BigQuery, BigQuery Cost Optimization, Google Cloud pricing calculator…)
Google BigQuery Project management (Creating a new project, Switching to a different project, Configure and save data transfer, Enable and configure BigQuery API..)
Google BigQuery data sets (BigQuery public datasets, Google Analytics sample dataset for BigQuery…)
Sending data from Google Analytics, Google Analytics 4, Google Ads, Facebook Ads, Google Search Console, Google Sheets to BigQuery.
Querying Google Analytics, Google Analytics 4, Google Ads, Facebook Ads, Google Search Console, Google Sheets in BigQuery.
Sending custom Google Analytics data to BigQuery
SQL Basics (Introduction to SQL, Standard SQL vs Legacy SQL, SQL editor, SQL statements, The structure of a data table…)
Case Studies (Retrieving all the columns of a table, Sorting result set in descending order, Sorting result set in ascending order, Using WHERE conditions to retrieve data…)
—————————
#5 Data, Maths & Stats Mastery Course
Digital Analytics Foundation
Overcoming the barriers to implementing analytics
Tools for carrying out Digital Analytics
Understanding Data in Digital Analytics
Mastering Data Reporting
Best excel charts for data analysis and reporting
Understanding Metrics, Conversion, Conversion Rate, Key Performance Indicators (KPIs)
Tracking Metrics and KPIs
Statistics behind analytics & conversion optimization
BONUS Module: Understanding Company Financials
—————————
#6 Attribution Modelling Course
Attribution Modelling Basics (Introduction, Objectives of attribution, Introduction to attribution issues, attribution modelling and marketing mix modelling, Different categories of attributions…)
What to Expect From Attribution
Correct Data Interpretation (The biggest problem of all in web analytics, Top reasons for the misinterpretation of analytics data and reports, …)
Preparation for Attribution Modelling (Developing that great understanding, wide separation between marketing activities, web analytics toolbox, server-side tracking, Google BigQuery…)
Channel Grouping, Deep Dive into Direct Traffic, The Referral Exclusion List
Google Analytics Campaign Attribution
Cross-Device Tracking, Cross-Domain Tracking
Roll-up Tracking
Online-Offline Conversion Tracking
Phone Call Tracking
Attribution BETA
—————————
#7 Google Data Studio Mastery Course
Getting Started with Data Studio, Data Sources and Connectors
Working with Google Sheets, Working with Report Editor, Working with Tables
Scorecards, Time Series
Bar Charts, Pie Charts, Geo maps, Line Charts, Area Charts, Scatter Charts, Pivot Tables, Bullet Charts, Treemaps, other report components
Community visualizations, Date Range, Filter Control, Data Control, Dashboards
🎁 Bonuses:
BONUS #1: Done for you Audits + Downloadable Worksheets (Value: $5,998 per month)
BONUS #2: Done for you funnels (Value: $2000 per month)
BONUS #3: Lifetime access to the course with no monthly/annual subscription fees (You save $300 per month)
BONUS #4: New study material added every few weeks. Life long free learning (Value: $500 per month)
BONUS #5: The Community: Private FB Group (Value: $500 per month) [NOT INCLUDED]
BONUS #6: Hundreds of Assessments to test your learning (Value: $700 per month)
BONUS Course: Marketing Analytics (Value: $500 per month)
✅ Great X Courses Guarantee: At Great X Courses, we insist in providing you with high quality courses, with direct download links (no paid links or torrents). What you see is exactly what you get, no bad surprises or traps. We update our content as much as possible, to stay up to date with the latest courses updates.
You can find more details about the course according to the sales page.