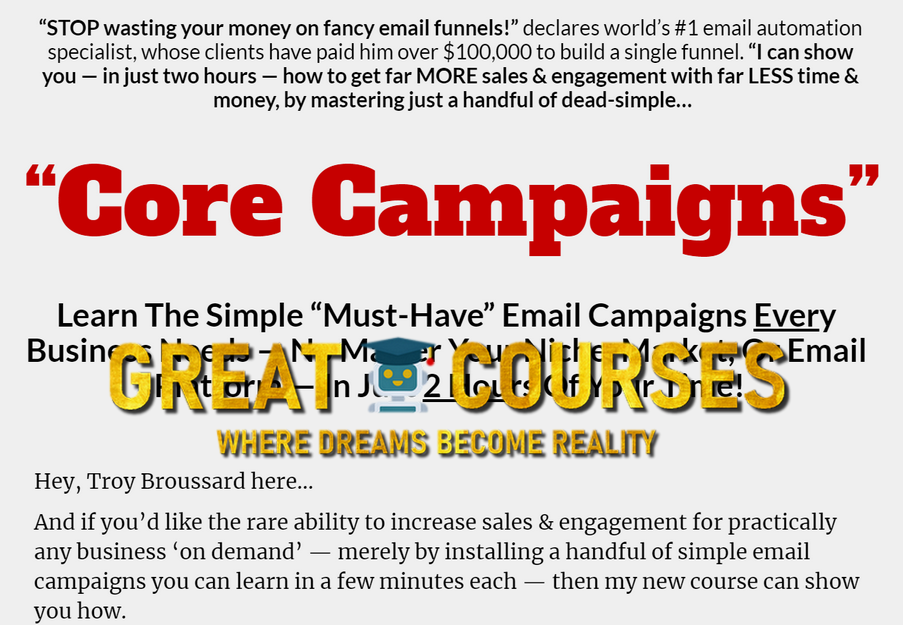 Core Campaigns By Troy Broussard – Free Download Course
You Will Finally Learn The Simple "Must-Have" Email Campaigns Every Business Needs. No Matter Your Niche, Market, Or Email Platform  In Just 2 Or 3 Hours Of Your Time!
✅ About This Course:
✅ Course Author: Troy Broussard
✅ Official Course Price: $495
✅ Free For Our VIP Members? : Yes
✅ Download Links : Mega & Google Drive
✅ Course Size : 5.42 GB
✅ Updatable? : Yes, all future updates included.
✅ Sales Page : You can check at the bottom of this page.
🏆 Here's What You Get & Learn With This Course:
This course will teach you the complete set of my "Core Campaigns", these fundamental email campaigns that every business should have:
The automated campaign which runs continuously in the background and "tricks" Gmail into boosting the deliverability of your regular broadcasts
The exact 13 best days to send follow-up emails to a customer in the 6 months after they buy a high-ticket course from you! (This VERY COOL post-purchase campaign is based on an ancient Italian mathematical formula used in stock trading prediction algorithms. And no, it's not metaphysical BS or hype. As my private client & "Australia's best copywriter" Daniel Throssell told me: "This campaign is actually GENIUS. I'm already implementing it for my own products, using those exact dates!")
A sneaky line you can add to your welcome email that makes it almost neurologically impossible for someone not to reply — WITHOUT offering any bribe, freebie or giveaway (this involves serious psychology!)
How to "jury-rig" a widely-available email automation to secretly calculate which product a new subscriber is MOST likely to buy — then automatically trigger offers for THAT product! (Simple 2-step setup procedure is explained in my "Product Exposure" core campaign)
The email you should send 22 to 27 minutes after someone joins your list (yep… there is a very specific reason for that timeframe which you will understand when you see the email)
A subtle advertising mistake most businesses make that literally filters out high-net-worth leads from seeing your ads — without you even knowing
A nifty tagging maneuver for keeping your list organised during promotions (I teach this FIRST in the course because it's such a fundamental skill, and you can use it for any campaign you ever build, not just my "Core Campaigns")
The "One Thing" core campaign you should send immediately after your welcome sequence!
A sneaky campaign for re-engaging with cooled-off leads by 1) wishing them a "happy birthday" when it's not their birthday 2) following it with a very specific message (don't skip this second step or it will backfire)
The best way to recycle old 'junk' helpdesk tickets to boost engagement & retention
My "Double Squeeze" core campaign (an approach to selling I have never seen anyone else teaching) you can reuse over and over every time you need an infusion of quick cash
My "barbecue handshake" method for "banging out" a welcome email with ease — even if writing copy is like pulling teeth for you
A post-purchase campaign that allows you to "disguise" cross-sells, upsells & affiliate offers to your buyers so well, not only will they not notice… but they'll probably write to THANK you for the "valuable" email…
A clever way to "harvest" glowing testimonials for your new product (which you can legally claim came from 'paying customers'!) BEFORE you've even begun selling it to your list
Why restricting a promotion to an interested 'sub-list' (like most people do) is a mistake — and what I do instead (there's a clever way to "have your cake and eat it too" using tagging, and I'll show it to you…)
The exact best time window to ask for a testimonial in a post-purchase campaign (it's NOT when most marketers do it…)
Why quizzes & surveys are the WORST way to find out what your list wants to buy — and my ingenious "Quizzes Be Damned" core campaign that will find out what they will ACTUALLY buy with almost 100% accuracy! (NOTE: You'll need the ability to create a pdf to execute this, as well as a bit of simple automation that I'll explain to you in the campaign — but it will be more accurate than any quiz you have ever used, trust me)
AND MORE!
A Bonus FREE Deliverability Training:
You'll discover how deliverability really works … how to quickly & easily boost yours … as well as tons of hidden gems like:
​
A little-known way to quickly & cheaply generate a report of EVERY single email on your email list, showing whether it's a legitimate account or a deliverability-destroying "spam trap"
The TRUTH about whether you should remove people who haven't engaged with your emails for 90 days (if you think you know the answer to this one… think again…)
How often to scrub your list (especially once you get over 1,000 subscribers)
A common email design mistake that instantly flags your email as potential racist hate speech! (It doesn't matter what YOUR politics on free speech are — all the Big Tech companies receiving your email have very clear views and will NOT hesitate to throw your emails into spam…)
Why "catch-all" email addresses usually (but not always) hurt your deliverability … and how to handle any that you find on your email list
When to invest in a dedicated IP server (and when you don't need to worry)
The spooky truth about Yahoo's "poisoned" spam-trap accounts that literally 'chip away' at your deliverability every single time you send an email to them! (And how to identify & boot them from your list…)
Why changing email platforms won't fix bad deliverability (even though it used to… but I'll show you what to do instead)
How to warm up a large list for a heavy launch (without getting your account disabled from spam complaints) if you have less than a month to prepare for it
& More of course!
✅ Great X Courses Guarantee : At Great X Courses, we insist in providing high quality courses, with direct download links (no paid links or torrents). What you see is exactly what you get, no bad surprises or traps. We update our content as much as possible, to stay up to date with the latest courses updates.
You can find more details about the course according to the sales page.